COTTAGE ON A LAGOON CONNECTS INDOORS AND OUT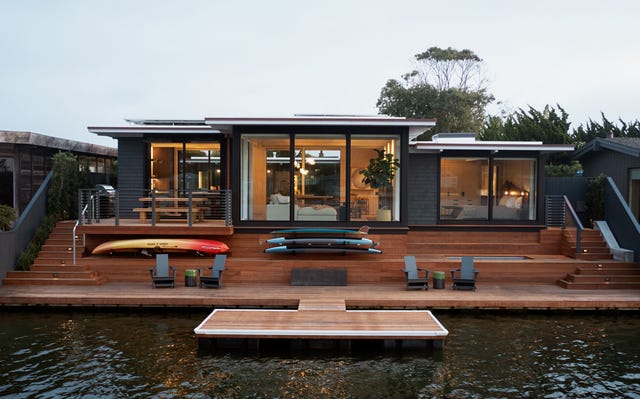 San Francisco–based designer Nicole Hollis is always trying to unify the interiors of the homes she designs with the great outdoors.
"Everything," she says, "is connected to the outside."
That spirit animates her new book, NICOLEHOLLIS: Curated Interiors (Rizzoli),
which features residences designed by Hollis in Hawaii and California. For one project,
a 1970s cottage she recently finished with architect Cass Calder Smith,
Hollis took her cues from the home's natural surroundings—set above a lagoon,
the house has floor-to-ceiling windows that look out onto the Marin Headlands.
The fog that regularly engulfs the area finds a mirror in the cool, white interiors.
Natural materials abound, most strikingly in the primary bedroom's giant walnut headboard,
inspired by the redwood trees just up the road.
Her approach is also reflective of the home's setting and its owners.
"I love the connection to nature, and the fact that the house is right on the water, but it's also just so much about the family," Hollis says.
The designer turned the 2,200-square-foot space into a getaway that could contain four active boys,
who sleep on bunk beds in two bedrooms, one of which was converted from the original garage. She kept places where the family could wind down top of mind, including an intimate courtyard complete with a firepit for gathering once the sun sets and the temperature goes down. ออกแบบบ้าน