Julia loved decorating —from choosing fabrics and colors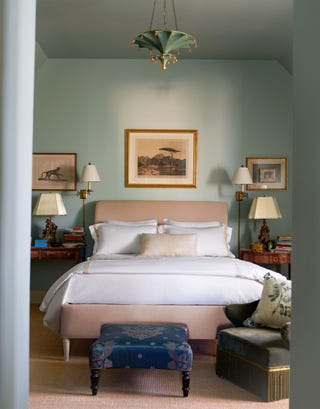 Even after she was diagnosed with cancer, Reed plunged ahead, building her "Delta Folly" in her hometown of Greenville,
Mississippi, where she had transformed the Hot Tamale Festival into a three-day cultural affair celebrated far beyond the state.
And she was working on this apartment in New Orleans—in a 1970s building that while nondescript
had the perfect location next to the landmark restaurant Commander's Palace and across from a historic cemetery—right up until her death last August.
The space was one of a pair of adjoining mirrored apartments she had connected and shared during her marriage,
but now, with the reestablishment of a dividing wall, it was the perfect size for Reed and her beagle, Henry.
She had the chance to reconsider everything, and she opted to make the place pale and fresh and pared down,
full of slipcovers and sisal, family antiques and paintings by her favorite artist, John Alexander.
She wanted it to serve as a muted counterpoint to the richly colored and layered Folly. "That last summer,"
says stylist Howard Christian, "Julia was still talking about Colefax and Fowler chintzes, and ordering casserole dishes and ramekins.
Julia loved decorating — from choosing fabrics and colors to screaming at painters."
With the ELLE Decor photo shoot spurring her on, Reed told Bebe Howorth, her longtime friend and a contributing editor at the magazine,
that she had already written the narrative in her head.
After my many years of editing her at Vogue and the New York Times, I knew that the trip from Reed's head to the page could be an arduous one.
But it was always worth it. I so wish she had been able to complete the story of this wonderful apartment, because,
like all her writing, it would have been beguiling and funny and true.  สถาปนิก